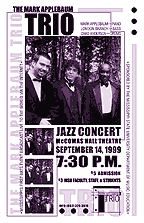 I love jazz. I like to listen to jazz a fair amount, but I am particularly enthusiastic about playing jazz. The swing feeling of jazz is important, but even more critical to me is the idea of improvisation. There is something so invigorating about improvisation. As a listener, the minute is divided into seconds. But as a player, each second is divided into a million fractions, each one a moment of reflection on the immediate and distant past, each one a reaction to a newly updated musical context, each one an opportunity to move in an infinite number of directions, each one stepping into the future and rendering it the present. Every moment necessitates a decision, and each decision is a manifestation of desire or restraint, a communion with or opposition to history, an aesthetic statement. In its own small but essential way, every decision transforms our culture. There are millions of these moments in every second. The spontaneity of jazz is my endorphin rush.

Jazz is also a rich tradition of bountiful heritage. But it is a tradition that demands evolution and broadness of creative response. When this is forgotten, jazz changes from a tradition to a bit of preserved history.

I began playing jazz piano in college and have studied it informally but passionately ever since. I like to play solo jazz piano, but it is especially thrilling to communicate in a small group. Recently I have been performing with the Mark Applebaum Trio, which includes two wonderful and creative musicians: London Branch, an extremely sensitive bass player; and Chad Anderson, an extraordinary young drummer. These guys are multi-talented: London plays classical music, composes, and conducts the Jackson State University Symphony Orchestra where he teaches; and Chad is an individual who I knew first as a gifted artist of abstract expressionist painting who now is pursuing a masters degree in fine art.

In September, 1999 the trio performed a concert at Mississippi State University that was the first Mississippi arts event broadcast live over the Internet. (The concert is archived and can be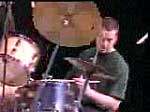 viewed at http://concert.msstate.edu) We work together with jazz trumpeter Scott Bauer in a quartet configuration too. The quartet has performed at the College of Santa Fe in New Mexico and completed a successful tour in the Czech Republic.

At present I am playing jazz standards and original compositions with my father, Robert Applebaum of Chicago, in the Applebaum Jazz Piano Duo. In the fall of 2000 we first got together at Stanford University to rehearse and see if the duo would work. To our delight we found enormous artistic common ground and a mutual sense of swing. (Indeed, the apple does not fall far from the tree.) Since then we have completed tours in Minnesota and Oregon, and finished our first CD recording: The Apple Doesn't Fall Far From the Tree (Innova CD565).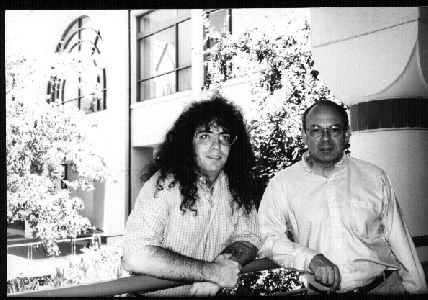 I have always considered myself an "outside" player. It used to be typical for me to spend almost as much time in the piano as at the keyboard. But in recent years I have come to see myself as an "outside" player who likes to be "inside" too. I really enjoy playing changes. I love playing standards—although it is more common for me to twist them about and to reinvent them through surprising arrangements. I don't have a problem with the head-solos-head formula that used to repulse me. I wonder if I am mellowing with age, or if axe-grinding has become shallow, or if it is simply more gratifying to respond from within the language and practice of tradition rather than from without.

I am frequently asked which jazz pianists I admire so I will indulge that query with a superficial list of names (the list is superficial, not the names), not in any particular order: Bill Evans, Thelonious Monk, Cecil Taylor, McCoy Tyner, Gonzalo Rubalcaba, Chick Corea, Herbie Hancock, Keith Jarrett, Denny Zeitlin, Wynton Kelly, Tommy Flanagan, Andrew Hill, Billy Taylor, Ahmad Jamal, Joanne Brackeen, Don Pullen, Richie Beirach, Art Tatum, Mary Lou Williams, Paul Bley, Oscar Peterson. I have to name Miles Davis too, because his total musical acumen—sensitivity, timing, vocabulary, harmonic sensibility, compositions, trend-collecting, group-forming, etc.—has provided a powerful inspiration on my musicality.